Home
> Clients
Selected Clients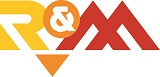 R&M Consultants, Inc. is an is an Alaskan consulting firm specializing in engineering, surveying, earth sciences and construction services.
Deliverable: ArcGIS .NET (C#) add-in functionality to support map series generation.

Open Range Consulting specializes in the successful management of working landscapes for biological and economical values.
Hancock Forest Management, NE Oregon Region, La Grande, Oregon

Hancock Forest Management is the world's largest timberland investment manager for institutional investors.
Deliverable: Upgrading and extension of .NET (VB.NET) ArcGIS map production tools.